Product Description
professional design tank leaching process
tank leaching process — Introduction
Dual impeller high efficiency agitating tank is applicable to carbon process and rubber chemical process. Its upper and lower layer of impellers are of steel plate encapsulated with rubber,which are connected by means of bolts. With the features like good equilibrium,easy replacement and long service life.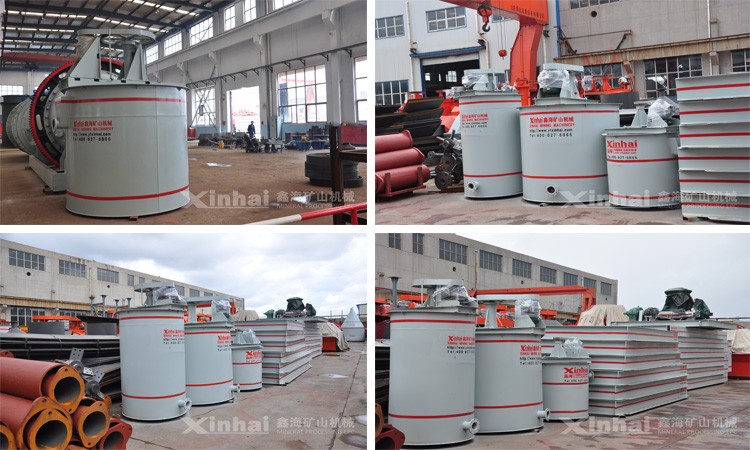 tank leaching process — Features
Cylinder is covered with Xinhai abrasion resistant and corrosion resistant rubber.
The high linear speed of impeller helps increase the agitation capacity of ore pulp.
More spot air-filling system.
tank leaching process — Application
Dual impeller high efficiency agitating tank is applicable to carbon process and rubber chemical process.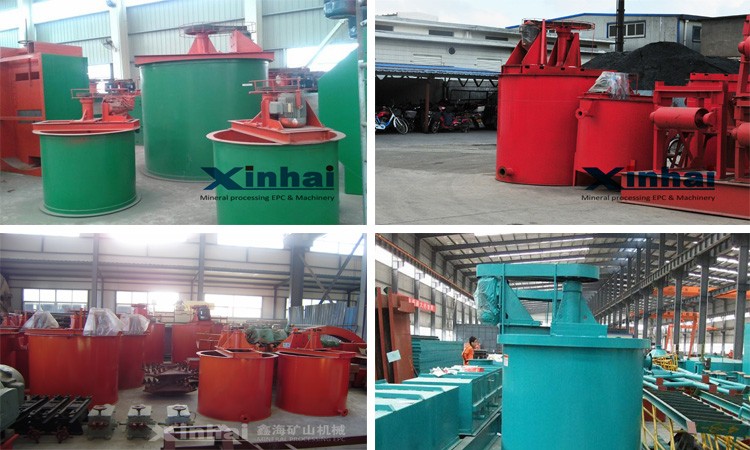 tank leaching process —Working principle
Carbon leaching bank is equipped with other auxiliary devices like carbon screen and carbon pump, etc. Made of steel and covered with rubber, upper impellers and lower impellers are connected with blot which improves balance capacity and service life. Main shaft is divided into two layer and linked by flange and reduces the slinging height. Multiple and disperse air holes can ensure the performance of mixing air and liquid.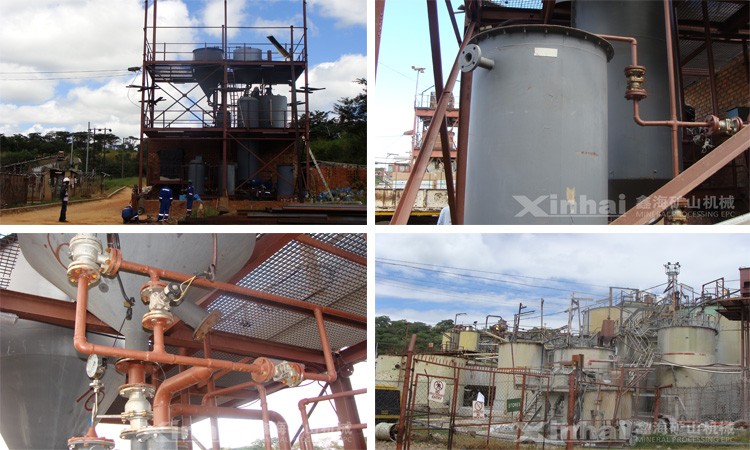 tank leaching process— Technical parameters
Model

Tank dimension
diameter
×height
(mm)

Effective
volume
(m³)

Impeller
speed
(r.p.m)

Impeller
Diameter
(mm)

Motor
model

Motor
power
(kw)

Planetary
Cycloid
Reducer
model

Tank
Weight
(kg)

Gross
weight
(kg)

SJ2.0×2.5

2000×2500

6

52

909

XLD-4

2.2

XLD2.2-4-29

1609

2144

SJ2.5×3.15

2500×3150

13.14

935

2241.36

3095

SJ3.0×3.0

3000×3000

18

40.85

1130

XLD4-4

4

XLD4-5-35

3391

4583

SJ3×3.15

3000×3150

18.93

43

XLD-4

2801.12

4160.6

SJ3×3.5

3000×3500

21

XLD-4-5

2974.69

4334.6

SJ3.15×3.55

3150×3550

24

1260

XLD-4-5-35

3330.15

4322.8

SJ3.5×3.5

3500×3500

30

52

1310

XLD5.5-5.29

5.5

XLD5.5-5-29

4285.6

5025

SJ3.5×4

3500×4000

32.7

4630.6

5429

SJ3.55×4.0

3550×4000

33.6

43

XLD4-5-35

4

XLD4-5-35

4059.6

5025

SJ3.7×4.2

3700×4200

38.4

42

XLD4-5-43

XLD4-5-43

5057.76

6153

SJ4.0×4.5

4000×4500

48

35

1750

XLD7.5-7-43

7.5

XLD7.5-7-43

6105.17

7569

SJ4.5×5.0

4500×5000

71.57

1750

XLD7.5-7-43

7505.78

10864

SJ5.0×5.6

5000×5600

98

31

2046

XLD11-8-47

11

XLD11-8-47

10482.4

14291

SJ5.5×6.0

5500×6000

112

2100

14209

18745

SJ7.0×7.5

7000×7500

245.4

21

2400

XLD22-10-47

22

XLD22-10-47

22090.22

29030

SJ7.5×8.0

7500×8000

268.6

2900

Y225S-8

18.5

24594.36

32796

SJ8.0×8.5

8000×8500

342

16.4

3200

Y250M-8

30

XLD22-11-59

33488.82

42467.3

SJ8.5×9.0

8500×9000

395

18.5

3300

Y250-8

36695.5

46623

Kush Clients Consulting Mineral Processing
Clients of Kush project paid a special visit to Xinhai on Jan 18, 2014, for detailed communication with the Xinhai technicians. They made an estimate of the size , investment as well as earnings of the mill plant. During this meeting, based on rich experience of mineral processing and mill plant, Xinhai technicians wined the clients trusts for answering clients questions.
Kush Gold Mineral Processing Test
After the contract was signed, Clients posted to Xinhai two packages of samples, totally weight 400kg. Xinhai Mineral Processing Institute provided comprehensive mineral processing test after precious test.
The mineral processing test made an analysis to the gold content which is 4.31g/t, thus Xinhai technicians decided to recovery gold directly through the solution of CIP cyaniding, which including grinding the raw ore to 88.0% -200mush,and using lime as alkali, then adding sodium cyanide, agitating then leaching.The pulp density can reach 40%, 4kg/t of slime, 2kg/t sodium cyanide, the leaching rate of gold can get 91.45% which is perfectly good. While it was worth mentioning that the Institute noticed that if adding Gravity Separation, the recovery rate will not notably improved while increased the mineral processing cost. For the benefits of the customers, Xinhai technicians suggested cyaniding directly, while the customers firmly believed that with the deepen exploiting, the gold grade can increase to 8g/t, and considering finding large particles around the mine, technicians decided to adopt the solution of gravity separation + cyaniding the tailings after gravity separation.
Mine Design
Mine design, an vital part of Xinhai mineral processing EPC, was in charge of Xinhai Mining Design Institute with Class A Certification. For better suiting the actual situation of the project, technicians of the Mining Design Institute made field survey to the surroundings such as terrains, waters and power supply, then designed the construction drawing elaborately and gave 3D simulation based on the processing flowchart and the equipment selection mine processing test provided.
Installation & Commissioning
After the Equipment manufacturing and purchasing, the perfect packaging and delivery system can guarantee the security service.
Xinhai Installation & Commissioning Operation Center Project No.1 was in charge of as well as full participation the field installation & commissioning. On the one hand, they supervised the construction site to inspect any problems, on the other hand , they optimized the production and management process to improve interests for customers.

Xinhai mining was established in 1993.And was the pioneer of China beneficiation industry.Our company could provide mining machine more than 600,and have the most equipment in China.At present,Xinhai business includes Mineral Processing EPC,Wear-Resistant Rubber,LFC Machinery,and Mining Investment.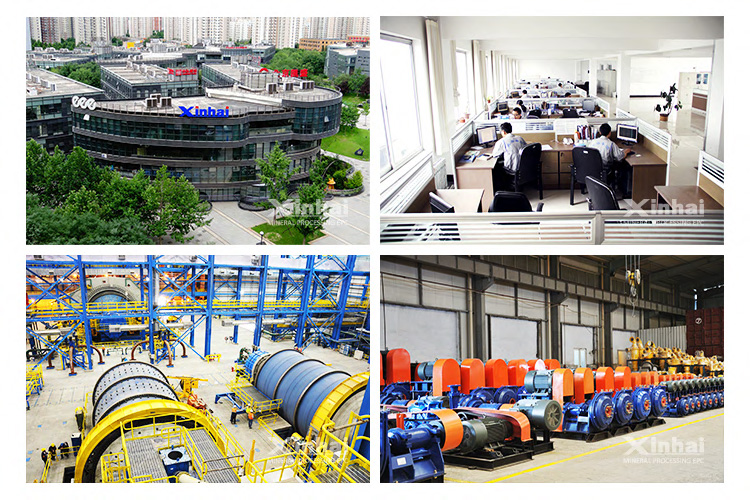 Q:Hi, are you mining machinery manufacturer?
A:Yes, we can also provide amples test, mine design, equipment manufacture, after-sale service, etc.
Q:which country have your products been exported?
A:Many country, such as India, Ethiopia and so on. And our company has agencies in Zimbabwe, Sudan and Tanzania.
Q:Can you do mineral processing test?
A:Yes, not only can do it in your country, also can back to our company
Your email address and telephone will not be shared or published!
Please fill in your need products and your message and do not forget mail and/or phone if you like to be contacted.
we are the professional machine manufacturer in China.
I need to ask you some details for sending you the more suitable quotation,
1.what is the raw material do you want to process?
2.what is the capacity per hour do you need?
3.what is the raw material input size?
4.what is the output size of your product?
Request for Quotation
Of course, free live-chat is available and you can get help immediately.Or you can send me email .
You can get the price list and a Xinhai representative will contact you within one business day.
I hope you can tell me these details,i will give you the best quotation ASAP ,thanks. Your satisfaction is our greatest pursuit, we would like to sincerely for your service! We look forward to your inquiry!
Contact us if you need more details on Tank Leaching Process. We are ready to answer your questions on packaging, logistics, certification or any other aspects about Leaching Process、Professional Design Tank Leaching Process. If these products fail to match your need, please contact us and we would like to provide relevant information.
Product Categories : Leaching Equipment for Gold Mine Selection